2 Day Guided Tour of Kakadu and Litchfield
Private tours are subject to a quote
This Top End Experience will immerse you in Australia's spectacular North. On this guided tour, you will travel through the cultural, historical and geographical landmark locations. We will delve into the stories and the natural wonders of the region. Activities include a selection from bushwalking, scenic lookouts, exploring ancient rock art sites, cultural and wildlife cruises, swimming and hearing about the cultural stories and traditions. You will see for miles over Wetlands, Savannah Woodlands, Stone Country and Escarpment. You will witness the uniqueness of our tropical ecosystems and hear how we have worked with the land and elements in the Northern Territory for centuries. Offroad Dreaming share their knowledge of combined decades of experience in the area and we have the opportunity to join specialist activities where specific cultural, geographical and historical information is a valuable addition to your itinerary.
Day One
Ubirr Rock Art Galleries
Guluyambi Cultural Cruise
Meals: Snacks and freshly prepared lunch on location
Overnight: Mount Bundy Station for camping or accommodation
Day Two
Magnetic and Cathedral Termite Mounds
Florence Falls
Buley Rockhole
Wangi Falls
Return Darwin early evening
Meals: Breakfast, snacks & Lunch
Private multi-day tour details
Your Offroad Dreaming Guide will meet you at your Darwin accommodation for a 06:00 departure. Leaving the city behind, we travel towards World Heritage Listed
Kakadu National Park
. Heading East, we make a comfort stop at
Corroboree Park Tavern
, a typical Territorian Tavern off the side of the Arnhem Highway. We will make our way into Kakadu, stopping first at the
North Eastern Region of Kakadu
.  We will travel up the multi levels of art galleries through the
Ubirr Rock
art shelters. The walk at Ubirr takes us through a series of sandstone formations and rock art galleries, which have provided shelter to the traditional owners for thousands of years. As we continue through the levels, it leads us up to
Nadab Lookout
, offering spectacular 360-degree views over the Nadab Floodplains, Ubirr and into Arnhem Land. The climb can be challenging for some, and for those in your group who prefer to stay on ground level, there is plenty of art to see there and your Guide can point out the best shady spots, to relax and await the return of your party. After the morning on our feet, we take a well-earned rest as your Guide dresses the benches and tables and prepares and serves a wholesome picnic lunch. Mid-afternoon we will take the short drive to the
East Alligator River
, a natural border between Kakadu and Western Arnhem Land. Here we meet a Bininj Guide who takes you on the
Guluyambi Cultural Cruise
, giving an insight into their culture and local mythology.   You will hear how the river is an abundant food chain for traditional plants and wildlife.  Your Guide will share the many uses their people have for the plants along the riverside and will spot plants and wildlife as you go.  They will share bush survival skills, passed down through the generations. We will make a turn at the infamous Cahills crossing, where the crocodile lazes across the crossway and swim in the deep waters.  Your Bininj Guide will invite you onto the banks of Arnhem Land, and show you a demonstration of their cultural skills before your boat will transfer you across the water back to the boat ramp. On return from your cruise, we set up camp or check in to your accommodation for the night.
Overnight: Mount Bundy Cattle Station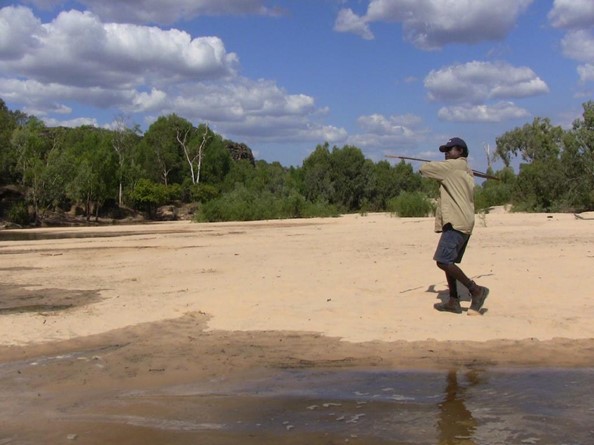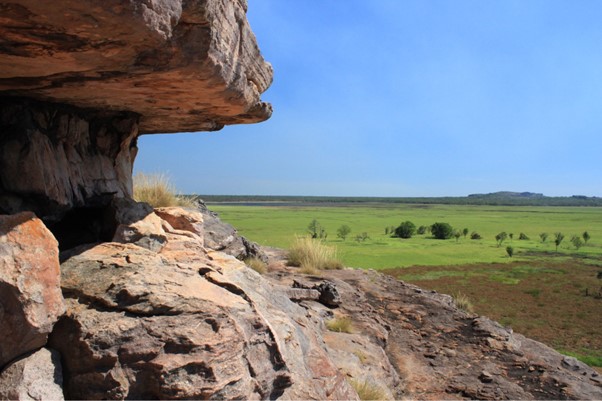 We will enjoy a hearty breakfast before leaving
Mount Bundy Station
by 08:00. We will head across the
Stuart Highway and through Batchelor
and enter
Litchfield National Park
. Today is spent in Litchfield National Park, which is a lush,
Savannah Woodland and Monsoon Forest nature reserve
.  In Litchfield, we are spoilt for choice, from the many waterfalls, swimming holes and adjacent walking trails available for us to enjoy. First, we will stop by the impressive
Cathedral and Magnetic Termite Mounds.
Here we can get up close with the mound structures and hear about the significant role termites play within the unique tropical ecosystem of the Top End. Heading further into the Park, we travel up onto the
Table Top Range and visit Florence Falls
.  Here you will have the option to swim in the fresh, cool, plunge pool and walk along Shady Creek walk through the monsoon forest. The scenic viewing platform high above Florence Falls provides great photo opportunities of the panoramic views of the falls and the waterhole and plunge pool below. From the viewing platform, we can walk down the steps into the flowing waters below.  The twin waterfalls are quite a site to see.  They flow steadily all year round and feed into a deep rock pool, which is great for those who love a good swim, whilst also providing shallow rock pools for those who prefer to dip in their feet. Next is a stop at the cascading waterfalls of
Buley Rockhole.
  Here you can explore each level enjoying dips from a selection of shallow rock pools, deep plunge pools and flowing springs. After a fresh picnic lunch, prepared and served on location, we make the short drive to
Wangi Falls
. Here you will see the water from the twin falls, cascade over the rock escarpment into the large pool below. There are various walking tracks, including a
Monsoon Forest loop walk
that takes you up and over the falls and a less strenuous walk through the monsoon forest to a treetop viewing platform. After taking in the views and cooling off in the crystal clear plunge pool (seasonal restrictions apply), we start to make our way back towards the Tropical City of Darwin via Berry Springs, returning early in the evening.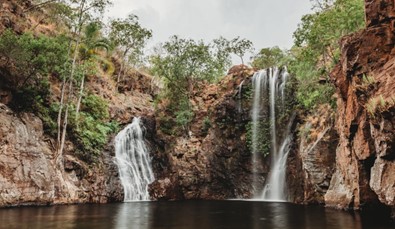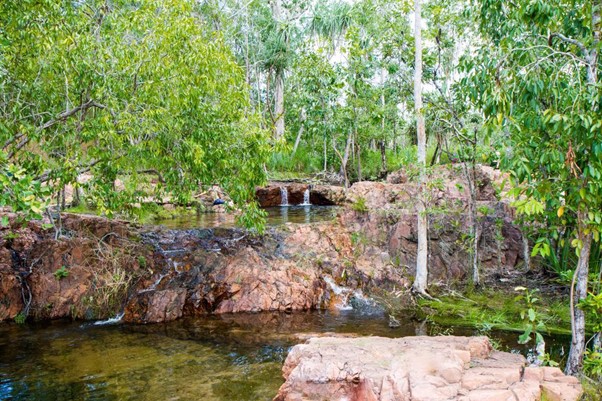 Guidelines for your travel with us here in Australia's Top End:
Offroad Dreaming will host your visit through the Northern Territory.  Offroad Dreaming Guides will use their knowledge, training and experience, along with our exceptional customer service standards, to share some of the quality experiences and activities the Top End offers.  Our Guides are fully licensed and accredited, and first-aid qualified. They hold knowledge certification and Ochre cards where required.  All our Guides are hand selected, with appropriate experience and references.  We will work with you to find the right Guide for your group.
---
You will not need to bring any food with you.
We provide fresh snacks and meals based on whole food ingredients, which can be amended to cater for special dietaries when required. Chilled, filtered drinking water is provided. Please bring a refillable water bottle.
---
Itinerary Changes
Throughout the day, if you would like to amend the itinerary or spend more or less time at each location, please consult with your Guide, who can restructure the day as you go.
---
Footwear
Please be aware of the walking distance of each trek and take a full water bottle with you each time. You will walk on bush tracks with loose dirt, sticks and stones. Suitable supportive footwear is recommended.
---
Travel Distances
Distances between locations in the Northern Territory can be vast. Itineraries are designed to minimise driving times as much as possible. Your drive will be broken up with regular comfort stops, and you are welcome to discuss additional stops with the Guide at any time. Some of our larger vehicles also have onboard toilet facilities.
---
The Vehicle
Offroad Dreaming has a variety of their own 2 Wheel Drive and 4 Wheel drive vehicles available for your transport. We will allocate you the most suitable vehicle depending on your group size and itinerary. We also work with other local vehicle providers when additional or extra sizes of vehicles are required. All vehicles are fully accredited, licensed, and insured to carry passengers and fitted with specific tour vehicle plates and are maintained to a high standard. Our vehicles are not wheelchair accessible.  Small walking aids can be stored in the back of the vehicle or trailer, depending on group size or vehicle.
---
Wildlife
Wildlife, such as wallabies, birds, snakes, frogs and lizards, can be spotted and observed throughout the region, which is made up of Savannah Woodlands, Monsoon Forest and sandstone formations.  We do not approach wildlife but will have the opportunity to observe them in their natural habitat.  Most of our wildlife is not naturally aggressive and generally does not approach humans unless provoked. Many species of snakes inhabit the Top End of Australia. Not all are venomous. Your Guide is fully trained to manage any health and safety requirements. Spider bites can cause mild sickness. Their bites are not fatal. Estuarine crocodiles do inhabit our waterways. Regular water surveys are carried out in designated swimming spots. Please observe swim safety signs at all times. Your Guide will also be available with safety updates.
---
Subject to change
Your itinerary may be subject to change due to cultural, seasonal and/ or environmental conditions. We aim to replace unavailable activities and locations with suitable alternatives.
---
Seasonality
Our Dry Season runs from May to October, and the weather is typically dry with light winds. Daytime temperatures average in the mid-30s, with low humidity and mild nights ranging from 15-25°C. November to April is the Wet Season in the Top End, tropical storms bring long-awaited rain, and the bush comes alive. Days can be sunny and dry and not adversely affected; however, it is monsoon season, and the rains can cause localised flooding, resulting in temporary road closures.  We are given advance notice of upcoming weather events and will make appropriate amendments to your itinerary.  In extreme cases, we may have to cancel.  Temperatures can range from 20-30°C overnight and up to the high 30s and 40s during the day.  Humidity levels often reach 80% or more, causing the temperature to feel hotter than it is.
---